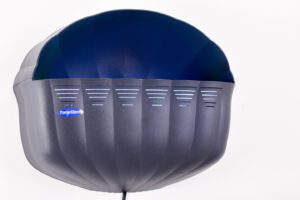 The Ultra II Insect Inn from Paraclipse is a patented, long-lasting fly control system that utilizes UV light and an exclusive auto-advancing glue cartridge to capture insects and keep them out of sight. The decorative cover looks like a wall sconce, but it discreetly keeps flies and other insects out of sight as they accumulate on a pheromone-enhanced adhesive strip that is automatically wound within a cartridge for a full 60 days.
Paraclipse® offers a no-touch solution to remove trapped insects from the unit that is unlike inferior glue boards.
Ultra II Insect Inn Product Benefits:
Covers commercials areas up to 4,000 square feet.

Eliminates large quantities of flies, keeping your establishment safe and free from flies carrying diseases such as Salmonella and E.coli.s

Non toxic with no insecticides or pesticides.

Cartridge holds 10 times the capacity of a glue board.

The auto advancing cartridge system rolls the trapped flies inside the cartridge so you never handle the fly covered trapping surface.

Audible alert to replace used cartridge.

Looks like a decorative wall sconce, directing light out and down to increase overall effectiveness.

Increases the outward reflective power of the UV lamps.

Meets USDA & FDA guidelines.

Available with White or Black cover.
Ultra II Insect Inn Product Details:
Proprietary Top Shell Design Directs UV Light Downward for Maximum Fly Catch

Reflector

UV Light (available in one-lamp or two-lamp models)

Frame Assembly

Capture Cartridge

Cartridge Advance Motor & Component Housing

Audible Cartridge Replacement Alarm

Removable Sconce Assembly

Competitor's Glueboard

Insect Inn Capture Cartridge
Product Uses:
| | | |
| --- | --- | --- |
| Bars/Lounges | Supermarkets | Snack Bars |
| Restaurants | Delicatessens | Convenience Stores |
| Large Offices | Buffets | Livestock Confinement |
| Dining Areas | Bakeries | Horse Stables |
| Vet Clinics | Dairy Barns |   |
Ultra II Insect Inn Specs:
| Specs | USA | International |
| --- | --- | --- |
| Model No (White Model): | 250602 | 250603 |
| Model No (Black Model): | 350602 | 350603 |
| UPC (White Model): | 856380005018 | 856380005018 |
| UPC (Black Model): | 856380005285 | 856380005285 |
| Dimensions: | 18.5″x15.25″x6.75″ | 46cm x 38cm x 17cm |
| Power Supply: | 110/115/120V 50/60 Hz, 8 foot Cord | 220-240V 50/60 Hz, IEC Receptacle |
| Weight: | 5.5 lbs. | 5.5 lbs. |
| Coverage: | Up to 4,000 ft. | Up to 371 Square meters |
| Cartridge Surface Area: | 584 square inches | 0.37 Square meters |
| Cartridge Life: | 60 days | 60 days |
| Lamp Life: | Approx. 8 months | Approx. 8 months |
| Ultraviolet (UV) Lamp: | 30 Watts (2- 15W lamps) (360-380 nm) | 30 Watts (2- 15W lamps) (360-380 nm) |
| Dimensions of Cartridge Surface: | 146″ x 4″ | 370.84cm x 10.16cm |
| Capacity: | Over 2000 flies | Over 2000 flies |
| Construction Material – Sconce: | High Impact Polystyrene | High Impact Polystyrene |