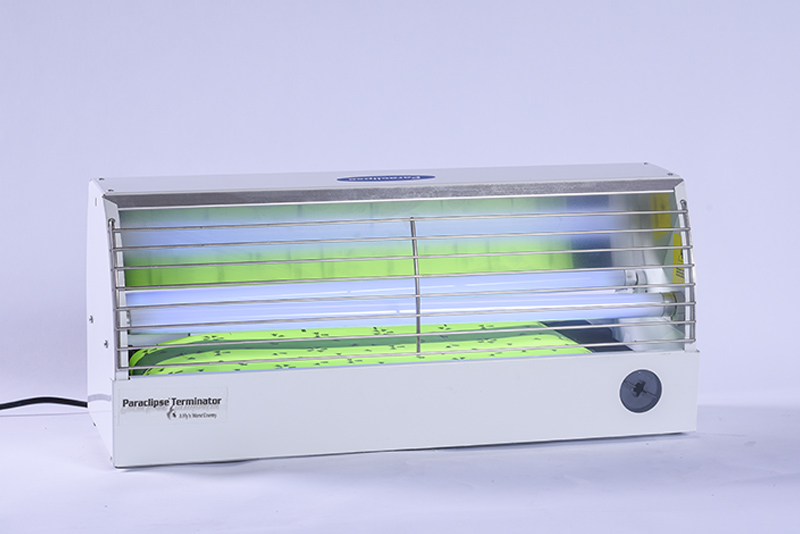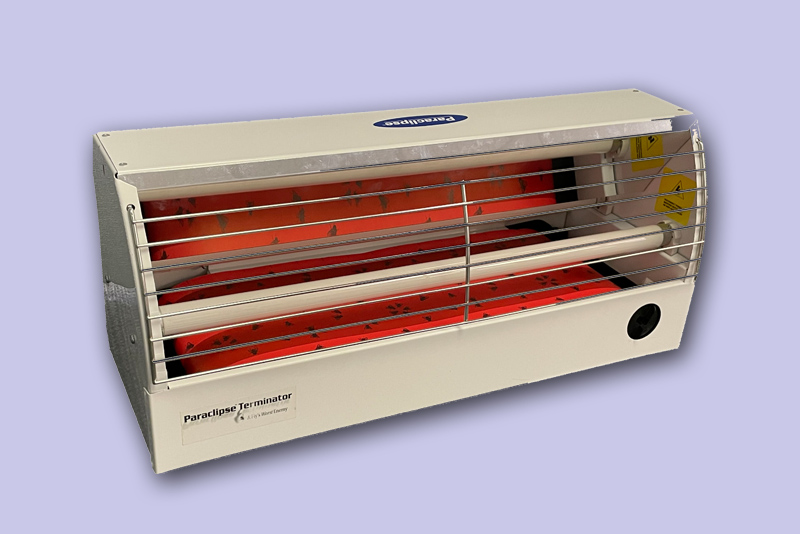 Paraclipse offers the Terminator for fly control a portable appliance for big commercial and industrial areas that call for insect control that is up to the challenge of eliminating flies on a large scale.
The Terminator's ingenious design utilizes two lamps and reflectors to attract flies to both sides of the unit. It can be used free-standing or suspended from the ceiling and also, a wall-mounted model is available. The Terminator's high-volume, 60-day cartridge system traps many times more flies than glue board units.
Product Benefits:
Covers commercials areas up to 10,000 square feet.

Specially engineered flying insect attracting device for commercial and industrial use attracts insects from both the front and back.

Silently put an end to your flying insect disturbances and the spread of disease that they carry such as Salmonella and E.coli.

Draws flies to the trapping surface and keeps them trapped, eliminating large quantities of flies.

Highly effective combination of special UV light, attractants and trapping surface with Ultraviolet Lamp Booster Reflectors.

Exclusive auto-advancing 60-day cartridge system, holding over 20 times the capacity of a glue board. Includes audible alert to replace used cartridge.

Environmentally safe, easy to maintain, easy to clean.

Meets USDA & FDA guidelines.

 
3D Terminator Fly Control
Terminator Product Details:
Reflectors (front & back)

Cutouts for Hanging Support

Decorative Grill

Audible Cartridge Replacement Alarm

40-Watt UV Light (2) 20-Watt Lamps

Extra Large 20" L x 7 ¼" W Auto-Advancing Catch Surface (1085 sq. in. catch surface)

Access Door for Cartridge Replacement

Cartridge Loading Advance Mechanism

Cartridge Advance Motor and Component Housing

Capture Cartridge

Competitor's Glueboard
Product Details and Specs:
| Specs | USA | International |
| --- | --- | --- |
| Model No: | 251350 | 251360 |
| UPC (White): | 856380005032 | 856380005032 |
| UPC (Stainless Steel): | 856380005469 | 856380005469 |
| Dimensions: | 23.0″x10.0″x8.50″ | 23.0″x10.0″x8.50″ |
| Power Supply: | 110/115/120V 50/60 Hz, 6 foot Cord | 220-240V 50/60 Hz, IEC Receptacle |
| Weight: | 9 lbs. | 9 lbs. |
| Coverage: | Up to 10,000 ft. | Up to 10,000 ft. |
| Cartridge Surface Area: | 970 square inches | 970 square inches |
| Cartridge Life: | 60 days | 60 days |
| Lamp Life: | Approx. 8 months | Approx. 8 months |
| Ultraviolet (UV) Lamp: | 13 Watts (Compact) | 13 Watts (Compact) |
| Dimensions of Cartridge Surface: | 54″ x 3″ | 54″ x 3″ |
| Capacity: | Over 1000 flies | Over 1000 flies |
| Construction Material – Sconce: | High Impact Polystyrene | High Impact Polystyrene |
Cord length: 6 ft
**For 220 Terminator system, adapter wall plug needed. **