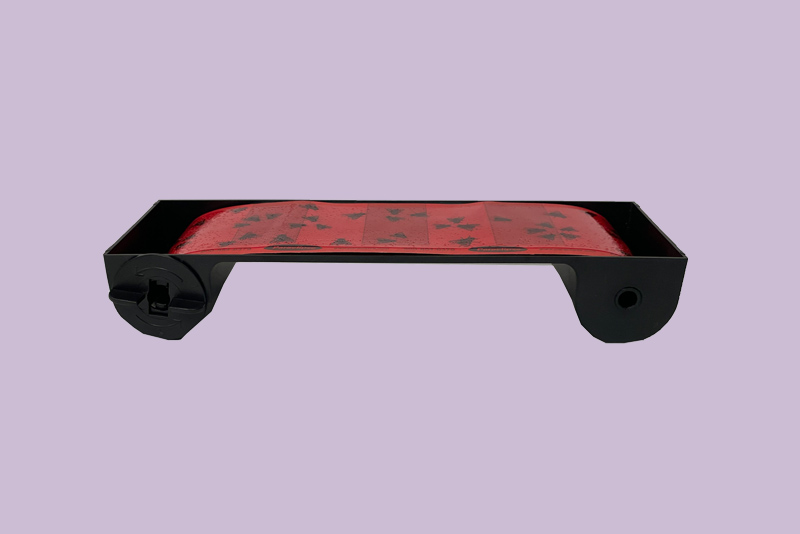 Paraclipse's Capture Cartridge auto-advances, so a fresh adhesive and attractant surface is always presented. As insects become trapped, they are rolled into the receiving end of the cartridge. When it's time to dispose of the cartridge, the trapped insects are contained in the cartridge housing for clean and sanitary handling.
The Paraclipse Insect Control Systems are the safest and most sanitary way to trap flies and other insects. Research has shown that when insects are electrocuted, bug zappers can spread a mist containing insect parts up to about 7 feet (2.1 m) from the device. The air around the bug zapper can become contaminated by bacteria and viruses that can be inhaled by, or settle on the food of people nearby. Glue boards become carpeted with insects, and then must be handled. Chemical fly control systems are toxic, and always pose a risk of contamination.
The Paraclipse system avoids the problems of other control methods, while also offering an effective insect control system that is powerfully attracting and better designed for public spaces.
Product Benefits:
The safest and most sanitary way to trap flies and other insects.

Non toxic with no insecticides or pesticides.

Meets USDA & FDA guidelines.
Capture Cartridge Details:
2PK Fly Patrol Replacement Cartridges:
| | |
| --- | --- |
| Model No: | 72315 |
| UPC: | 856380005162 |
| Dimensions: | 11.75″ x 3.75″ x 2″ |
| Additional Information: | Our patented, auto advancing 30 day replacement cartridges comes in a convenient 2 pack. |
6PK Fly Patrol Replacement Cartridges:
| | |
| --- | --- |
| Model No: | 72319 |
| UPC: | 856380005155 |
| Dimensions: | 11.5″ x 4″ x 5.75″ |
| Additional Information: | Our patented, auto advancing 30 day replacement cartridges comes in a convenient 6 pack. |
12PK Fly Patrol Replacement Cartridges:
| | |
| --- | --- |
| Model No: | 72320 |
| UPC: | 856380005148 |
| Dimensions: | 12″ x 8″ x 6″ |
| Additional Information: | Our patented, auto advancing 30 day replacement cartridges comes in a convenient 12 pack. |
2PK Replacement Fruit Fly Patrol Cartridges:
| | |
| --- | --- |
| Model No: | 72315 |
| UPC: | 856380005230 |
| Dimensions: | 11.75″ x 3.75″ x 2″ |
| Additional Information: | Our patented, auto advancing 30 day replacement cartridges comes in a convenient 2 pack. |
6PK Replacement Fruit Fly Patrol Cartridges:
| | |
| --- | --- |
| Model No: | 72319 |
| UPC: | 856380005247 |
| Dimensions: | 11.5″ x 4″ x 5.75″ |
| Additional Information: | Our patented, auto advancing 30 day replacement cartridges comes in a convenient 6 pack. |
12PK Replacement Fruit Fly Patrol Cartridges:
| | |
| --- | --- |
| Model No: | 72320 |
| UPC: | 856380005254 |
| Dimensions: | 12″ x 8″ x 6″ |
| Additional Information: | Our patented, auto advancing 30 day replacement cartridges comes in a convenient 12 pack. |
4PK Ultra II Replacement Cartridges:
| | |
| --- | --- |
| Model No: | 73820 |
| UPC: | 856380005070 |
| Dimensions: | 18.25″ x 9.5″ x 3.25″ |
| Additional Information: | Our patented, auto advancing 60 day replacement cartridges comes in a convenient 4 pack. |
12PK Ultra II Replacement Cartridges:
| | |
| --- | --- |
| Model No: | 73836 |
| UPC: | 856380005063 |
| Dimensions: | 18.5″ x 10″ x 10″ |
| Additional Information: | Our patented, auto advancing 60 day replacement cartridges comes in a convenient 12 pack. |
4PK Terminator Replacement Cartridges:
| | |
| --- | --- |
| Model No: | 73891 |
| UPC: | 856380005117 |
| Dimensions: | 9.25″ x 7.25″ x 9.5″ |
| Additional Information: | Our patented, auto advancing 60 day replacement cartridges comes in a convenient 4 pack. |
12PK Terminator Replacement Cartridges:
| | |
| --- | --- |
| Model No: | 73892 |
| UPC: | 856380005100 |
| Dimensions: | 22.75″ x 10″ x 10″ |
| Additional Information: | Our patented, auto advancing 60 day replacement cartridges comes in a convenient 12 pack. |
4PK Replacement Mosquito Eliminator Cartridges:
| | |
| --- | --- |
| Model No: | 63820 |
| UPC: | 856380005193 |
| Dimensions: | 18.25″ x 9.5″ x 3.25″ |
| Additional Information: | Our patented, auto advancing 30 day replacement cartridges comes in a convenient 4 pack. |
12PK Replacement Mosquito Eliminator Cartridges:
| | |
| --- | --- |
| Model No: | 63836 |
| UPC: | 856380005186 |
| Dimensions: | 18.5″ x 10″ x 10″ |
| Additional Information: | Our patented, auto advancing 30 day replacement cartridges comes in a convenient 12 pack. |