Fruit Fly Patrol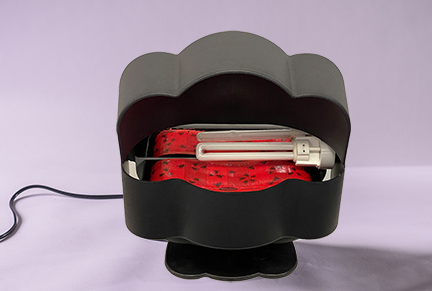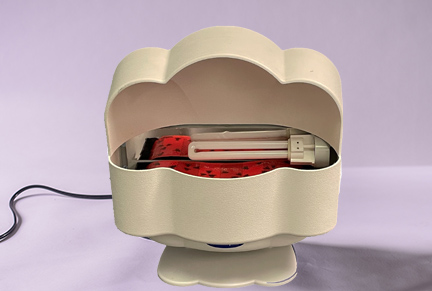 The Fruit Fly Patrol is a versatile decorative fruit fly control system from Paraclipse. Beautifully designed, it is powerful enough for commercial use in areas up to 1,000 square feet and the unit to be wall-mounted or placed on a flat surface. It's special UV light, attractants and decoys on the trapping surface to lure and capture fruit flies. It's small size blends into any décor.
We are extremely impressed with the products performance and the customer service the company provides, therefore we highly recommend Paraclipse for all your pest control needs.
Covers commercials areas up to 1,000 square feet.
Unique Capture Cartridge provides continuous sticky surface and sex attractants.
Trapping system is environmentally friendly (designed for use in food handling areas, and meets applicable guidelines).
Sanitary trapping surface captures insects and rolls them into the cartridge.
Features a 30-day auto-advance cartridge system with audible alert to replace used cartridge.
 The unique design allows the unit to be wall mounted or placed on a flat surface.
Research-proven Ultraviolet Lamp and Booster Reflector increases the outward reflective power of the UV lamp.
Environmentally safe, easy to maintain, clean and meets USDA & FDA guidelines.
Fruit Fly Patrol Product Details
| | | |
| --- | --- | --- |
| Buffets | Convenience Stores | Conference Rooms |
| Supermarkets | Restaurants | Bars/Lounges |
| Bakeries | Dining Areas | Delicatessens |
| Snack Bars | Large Offices | Vet Clinics |
| Dairy Barns | Livestock Confinement | Horse Stables |
| Specs | USA | International |
| --- | --- | --- |
| Model No: | 250708 | 250709 |
| Dimensions: | 12.5″x12.0″x6.25″ | 12.5″x12.0″x6.25″ |
| Power Supply: | 110/115/120V 50/60 Hz, 8 foot Cord | 220/240V 50/60 Hz, IEC Receptacle, 6 foot Cord |
| Weight: | 3.5 lbs. | 3.5 lbs. |
| Coverage: | Up to 1,000 ft. | Up to 1,000 ft. |
| Cartridge Surface Area: | 162 square inches | 162 square inches |
| Cartridge Life: | 30 days | 30 days |
| Lamp Life: | Approx. 8 months | Approx. 8 months |
| Ultraviolet (UV) Lamp: | 13 Watts (Compact) | 13 Watts (Compact) |
| Dimensions of Cartridge Surface: | 54″ x 3″ | 54″ x 3″ |
| Capacity: | Over 1000 flies | Over 1000 flies |
| Construction Material – Sconce: | High Impact Polystyrene | High Impact Polystyrene |
**For 220 Fruit Fly Patrol system, adapter wall plug needed. **